Infrared Sauna Intro Special
Cryotherapy Intro Special
Have you tried dieting an exercise but some spots still don't look their best? Target fat in stubborn areas With the Cryo T Shock.
Our machine is very effective for reducing and in many cases eliminating cellulite. Don't waste time come see us now and get rid of cellulite once and for all.
The Cryo T Shock is great for tightening skin after having a baby or rapid weight loss. It is a great non invasive alternative to surgery.
Schedule a free consultation and get a free Fit 3D Body Scan. (appt required)
Don't be fooled by places offer shorter session at a lower price for body sculpting.
The Fit 3D scan is used to measure your before and after results. In 2019 we don't need to use measuring tape and wonder if we are being consistent with the measurements. This digital solution allows you to access your measurements from any computer or phone so you can alway have a record of your improvement.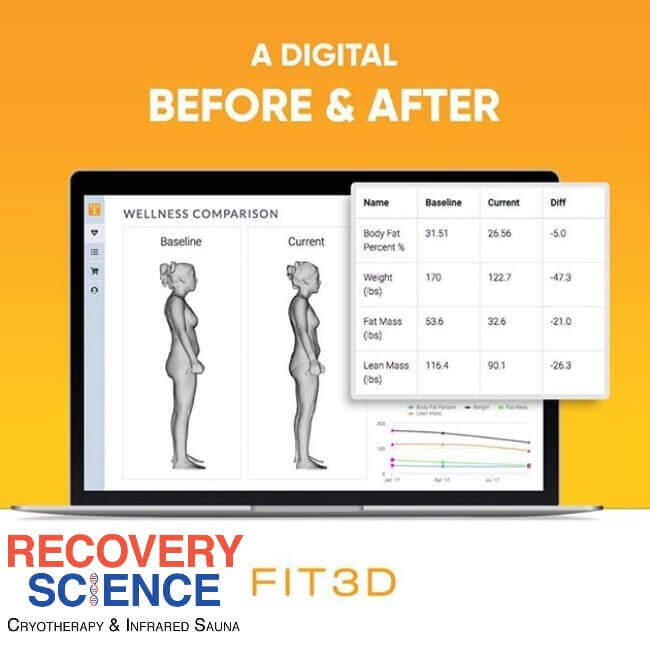 Experience matters! Our Wellness consultants have undergone countless hours of training. Any they have performed more session than most places that are just popping up with lesser know equipment. Body shaping is an art as much as it is a Science and our wellness consultant is in the room with you for the full 1 hour session monitoring your progress and making adjustments as necessary so that you can get the most effective treatment for you hard earned money. Do not be fooled by places that offer less expensive 40 minute session.
All rights reserved for RECOVERY SCIENCE®️
All rights reserved for RECOVERY SCIENCE®️